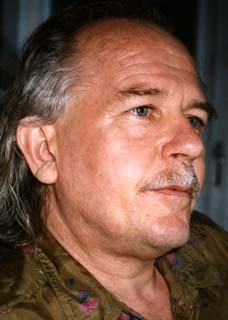 Born 4 November 1944, in Yorkshire, England, under the sign of Scorpio. His father was a civil engineer and his mother was an artist, writer, dance teacher and spiritualist. Nik was brought up and educated in the Middle East (to 1955) and finished his schooling in England. From an early age he studied ancient cultures, archaeology, anthropology, religions and mythologies, specializing in Egyptology, ancient art, symbolism and occult/paranormal phenomena. His other early interests were science, amateur radio, electronics, puppetry and fine art/antiquities.
During the early1960's Nik managed and produced English Rhythm & Blues groups and helped pioneer commercial radio in England through his involvement with Radio Caroline, the first "pirate" commercial music station. During this period Nik helped organize and arrange numerous tours and promotions of European and American musical acts.
Nik moved to Ibiza, Spain, where he developed inventions using solar energy. By early 1964 he became entirely focussed on Tantra, finding that its' traditional teachings offered relevant solutions to life's mysteries. He dropped out of the business world and focussed on his own art work, exhibiting drawings and paintings in Spain and England, before travelling overland to India.
Between 1966 and 1974 Nik spent most of his time in Asia, visiting remote areas of India, Sri Lanka, Nepal, Sikkim, Thailand and Indonesia, building up his knowledge of the customs, beliefs and spiritual practices of Hindus and Buddhists. He researched Oriental medicine, alchemy, art, sculpture and mysticism, studying with Hindu yogis, Buddhist lamas, doctors and Tantra experts.

Nik worked with Ajit Mookerjee
, author of the important books Tantra Art:
and Tantra Asana
, and helped organize his Tantra art collections and the first large "Tantra" exhibit at London's Hayward Gallery. In 1968 Nik was formally initiated into traditional Hindu Tantra by Durga Das Shastri, a Bengali Siddha yogi. Following this he studied Tibetan Tantra with Dudjom Rinpoche
, the Gyalwa Karmapa
and Lama Kunzang
, Indian alchemy (Rasayana) and Ayurvedic medicine with Dr. Bindu Joshi, Tibetan iconography and art with Lama Anagarika Govinda
and was furthur initiated into the Shakta Tantra tradition by Gangotri Giri ("Gangotri Baba"), a Siddha yogi and medical doctor with much experience in traditional Tantric arts and sciences. Nik's relationship with Gangotri Baba has continued to the present.
In 1968 Nik filmed at the Kumbha Mela festival in Hardwar (with Kenneth Anger) and went on to lead a "magical mystery tour" across North India, filming important sequences in Khajuraho, Benares and at Tantric pilgrimage sites in West Bengal. The result was his movie Tantra: Indian Rites of Ecstacy
, produced with Mick Jagger
and Robert Fraser, which was finished and first released in movie theaters in 1969. This fim, now on video, features worship in the Golden Temple of Benares, rare Tantric artworks, a day and a night with Durga Das Shastri in the Great Cremation-ground at Tarapith culminating in an initiation, and an authentic Tantra "Maithuna" ritual. The soundtrack, entirely recorded on location in India, is an initiation into traditional Tantric Mantras and devotional songs of the Hindu Tantric tradition.
Nik helped organize the first World Conference of Scientific Yoga (New Delhi, 1969), and published the first issue of "Chakra: A Journal of Tantra and Yoga" at the same time. Nik's first book, "Tantra Yoga" was published in 1970. This and subsequent publications such as Karmapa: The Black Hat Lama of Tibet
, Tibetan Tantric Charms and Amulets
and Sexual Secrets: The Alchemy of Ecstasy
have been well received and translated into many languages.
Nik is a connoisseur and collector of fine art and antiquities from the Middle East, Asia, Africa and the Americas. He has been a consultant and agent for museums, galleries and private collectors for the past thirty years, and owns one of the largest Tantra photo and reference archives. Tantric Art is his primary interest and illustrations from his archives are featured on this Web Site.
In 1997 SPIRITUAL SEX: Secrets of Tantra From the Ice Age to the New Millennium
by Nik Douglas was published by the Pocket Books division of Simon & Schuster (ISBN 0-671-53739-3). In 1998 Nik participated in the Canadian television mini-series " The Look of Love" . Many of his images from his Asian erotic art archive were used in the History of Sex television mini-series which first aired in the summer of 1999; others are scheduled to be included in the forthcoming " Sex Files" television series. In December 1999 an entirely new colorized Sexual Secrets: Twentieth Anniversary Edition: The Alchemy of Ecstasy
was published by Destiny Books (ISBN 0-89281-805-0). Celebrating the sale of over one million copies of this title, it features a special full-color illustrated Preface by Nik, entitled " New Discoveries on the Origin of the Secrets" , which introduces startling new evidence of Tantric and Taoist origins in archaic Indian tribal and Chinese Neolithic societies.

In 2012 SPIRITUAL SEX: Tantric Software for Love by Nik Douglas, TantraWorks Media published the Second Edition of Spiritual Sex (ISBN 978-0-9855960-0-2). This 2012 TantraWorks edition of SPIRITUAL SEX has been much revised and expanded since the original Pocketbooks publication of 1997, which was out of print soon after its release. Key topics have been updated and expanded, an entirely new chapter added, together with extraordinary Tantra Art illustrations through 32 lavish full-color plates. The continuing demand and with interest in Tantra ever on the rise, this revisit, reassessment and update is long overdue. Each one of us a spiritual being, each one of us the product of a sexual act. Sex in some form or another drives so much of our lives, from day-to-day interactions to advertising, fashion and the media. Spiritual sex is at the foundation of our existence and the sooner we come to terms with, understand and embrace the traditions, the sooner we will know and experience the true direction of our spiritual evolution. May this updated edition of spiritual software shed even more light on this fascinating and crucial subject!

Nik passed away in July 2012
Rest in peace Nik. He will be greatly missed.